Story
"I wanted to expose them to the sound and cadence of really beautiful words."4
Duncan approached the question of interactive narrative by taking a cue from Alice in Wonderland:
If you took everything in between the beginning and the end of Alice in Wonderland and scrambled up every chapter, it would make no difference to the development of the story….[Chop Suey] works the way that real life does: all these things happen to you, but there's no magical event, like there is sometimes in books, that transforms you.5
Each CD-ROM has a linear intro, and the latter two have outros as well. In between, the titles unravel as a series of vignettes, interactions, and games, like "little pearls on a long, long necklace."6
Players navigate the games by clicking on detailed cityscapes, viewed from above like maps. Henry Jenkins described the games' settings as follows:
Chop Suey and Smarty take place in small Midwestern towns, a working class world of diners, hardware stores, and beauty parlors. Zero Zero draws us further from home—into fin de siècle Paris, a world of bakeries, wax museums and catacombs.7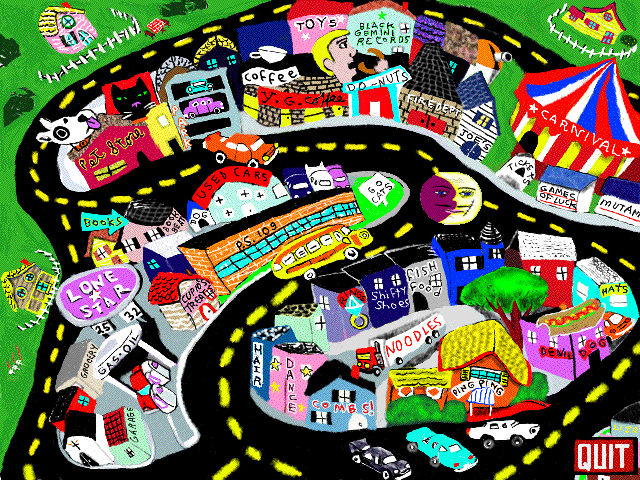 Duncan held a longstanding interest in the role of setting in storytelling. In 1989, she wrote in her diary:
I am transfixed by maps, colorful, blue and pink and pale green, black lines tracing the paths I will never take. Mountain ranges rising from the surface, where you can run finger down and imagine all the towns, all the places where you could go and make your life better. Maps are like words, the anecdotes to describe my life.8
The laconic pace of movement in these games reflected Duncan's sensibilities, but also the budgetary constraints she faced. As her work evolved, Duncan expressed interest in wanting to make more extensive use of movement:
That was kind of my personal aesthetic, to be more literary and meandering, which is something that I do like. But it did start to bother me, too, and I thought it might be good for girls to have the sense of speed and activity and action. That's why in my new game [Zero Zero] the girl is extremely active.9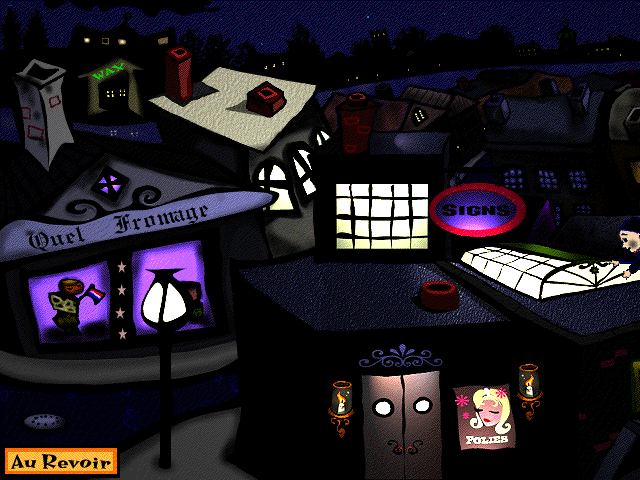 Even with these animated flourishes, the games lend themselves to deliberate exploration. They are mysterious and lovely but also glamorously seedy—not your typical storybook environs.
Many of the settings and characters in the CD-ROMs reflect Duncan's belief that stories for children shouldn't be whitewashed.
A lot of people want to project this fantasy of purity and innocence onto children, but I think it deprives them of some of the richness of their lives…Kids see a lot, and they're wise and a little more complicated than most people give them credit for being.10
In numerous scenes in the games, the complexities of the adult world show through. Aunt Vera, from Chop Suey, has three ex-husbands (all named Bob), and a boyfriend named Ned.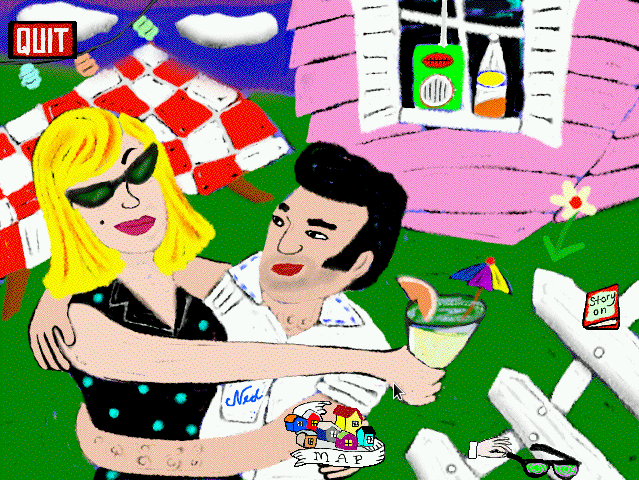 When, also in Chop Suey, Lily and June Bugg travel to New York City in a daydream, even the annoyances of city life sparkle with glamor in their eyes. Narrator David Sedaris describes the shaking of the ground as a New York City subway passes underneath them. Here, the imaginative realism of the text is complemented by sound design that adds layers of noise and hubbub and excitement.
Another important aspect of Duncan's writing was its sensory quality. She said she wanted the language in the games to be "beautiful and demented," and many of her lines were rich with visual imagery and fragrance.